What is a generic dental implant?
As with medicines, your dentist can now offer you generic dental implants. This product make the dental care you need more attractive thanks to a lower price.
With a generic dental implants, you can get treatment in France, near your home, with confidence and benefit from all the know-how and follow-up of your dental surgeon, avoiding having you treated abroad.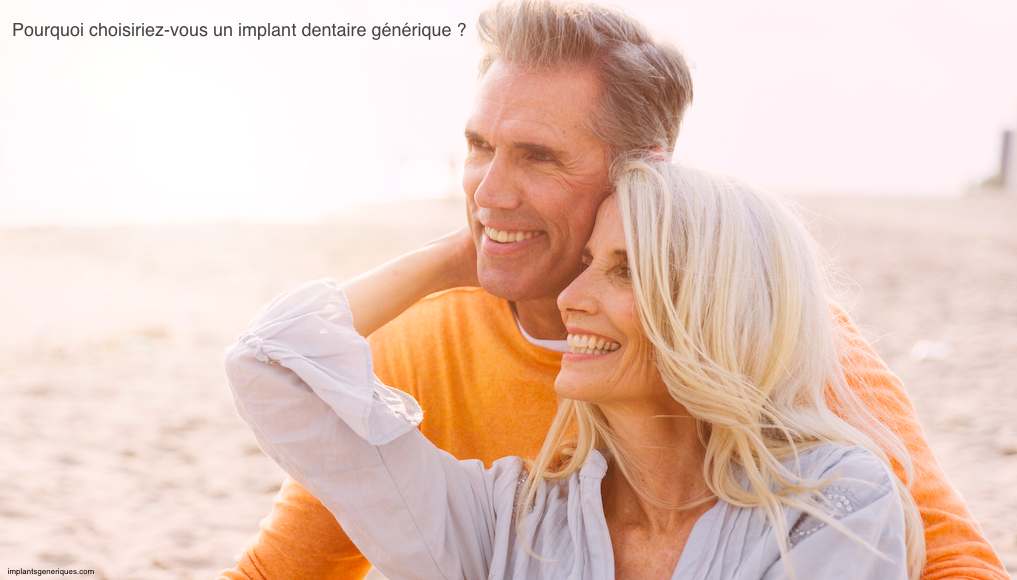 Talk to your dentist!
The advantages of generic dental implants:
- A dental implant is an artificial root
- A titanium or zirconia or polymer screw
- Inserted into the alveolar bone to replace a missing tooth.
After more than forty years of clinical experience, implants provide a host of benefits. Here are some examples :
They help restore the comfort and aesthetics of natural teeth.

They permanently and permanently replace missing teeth.

They boost bone health.

They maintain the beauty of your face by preventing the jawbone from resorbing.

They release the palate and accentuate the finesse of the flavors.

They increase the stability and retention of dental prostheses (dentures).

They facilitate the chewing and digestion of food.

They make it possible to regain a quality of life.

They promote greater confidence and self-esteem.

They do not decay.
Illustrated explanations of generic dental implants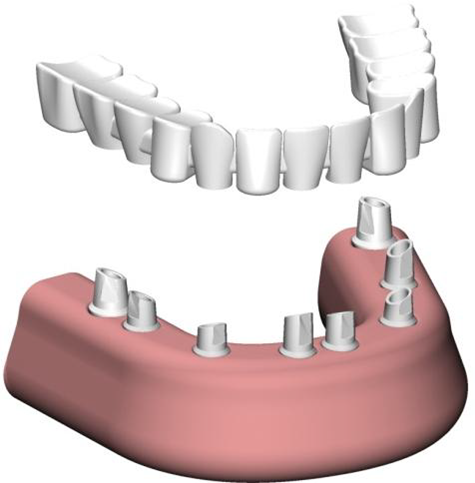 *Prosthesis on unitary implant
*Screw-retained prosthesis Stabilized prosthesis on two implants
*Screw-retained prosthesis
*Single dental prosthesis Screw-retained dental prosthesis
*Screw-retained prosthesis Stabilized prosthesis on two implants
Generic implants: an economical choice
In Europe, the average price of a conventional dental implant is 1000 euros.
As for generic dental implants, as for generic drugs, there is a reduction in the price of 40 to 50%.
It's necessary to add to this estimation the price of the implant abutment, the average price of which is around 600 euros.
With a pillar on a generic implant, the savings here too are 40 to 50%.
With generic implants invest in your dental care for your future
To summarize, we will say that a dental implant is a high-end solution, a very costly investment for the patient.
As teeth are a reflection of our overall health, it is important to invest in looking after them. However, it is necessary that all have access to dental care regardless of their means.

Generic implants offers ethical products : the generic dental implant is a healthy item. We do not promote advertising and do not wish to invest in commercial representation. This allows us to lower the price of our products and to remain independent.
The affordable prices of our dental devices are not a mark of poor quality, quite the contrary. they are only the reflection of our wish to generalize the access to dental implantology and of our refusal to squander money in communication and useless representations.
Do not hesitate to talk to your dental surgeon or to get information from other professionals.
IGA-compatible implants are class II b medical devices manufactured according to European directives with CE marking, their manufacture is verified by European certification bodies.
Class II medical devices B-CE 0426. Directive 93/42 / CEEUNI EN ISO 13485-2004 (ISO 13485-2003).